SUNSHINE STATE RHODESIAN RIDGEBACK CLUB
THIRD QUARTER NEWSLETTER
Summer in Florida is definitely a time to take it easy.  There are a few shows here and there, likely to be no coursing and most of us just stay close to home and the air conditioner or go to the beach.  

Not this summer.  Our members have been BUSY.  New champions, a Ridgeback only ASFA run on an early July morning and spending time playing or lounging.  

Enjoy the newsletter.

Welcome new members:  Kimi Murphy, Frank Haiko and Jennifer Haiko and Chris Gatz.
Oh those summer Ridgies!!
Roccridge Spice of Life - "Sara" won big at the June Orlando shows.  It was Sara's first points and it was a major.!  Sara is owned and loved by Mark and Kathy Stewart and handled by Christina Choffey



Another BIG winner in the ring is Cooper - Kengali's Unbridled Power.   Cooper went WD for back to back 4 pt majors making this his 3rd 4 pt major in Richmond VA on June 28, 29.  He won all days shown in Kenner LA, he went WD in Kenner LA on Aug 1 and Aug 3 where he became a NEW CHAMPION.  Then on Aug 4 his first time in the Breed ring as a Champion he went Best of Breed (BOB) with a 5 pt Major GrCH pts   Here is Cooper in Virginia with his handler, Arvind.  

CROSSWICKS DISCO BABY DON'T BE TARDY FOR MY PARTY
Disco earned her first 5pt. Major during her second Weekend of showing. 
Disco was shown by Marcelo Veras, winning 1/ W. 
Then we handed Disco over to Carol Smith who took the 5pt.major, BW, for Disco! :)
Thank you Marcelo and CAROL SMITH!!! ~Kimi Murphy
CROSSWICKS DISCO BABY DON'T BE TARDY FOR MY PARTY
Disco earned her second Major, a 3pt. mjr., at her third weekend of showing.
This show was a Sunshine State RR Club Supported Show.
Thank you handler Ron Bigford, and, Ginny Merchant of the SSRRC for a beautiful Ribbon & Stained Glass Trophy.
~Kimi Murphy
Zora Zora Zora.  She went on a Southeast tour and came up with some grand wins!
5 Day show Aariel's Red Dawn Rising over Springsridge- Zora
Won Winners Bitch All 5 Days 

She was On Fire
Judges:
Wednesday Danville Kennel Club 8/14/13 Mr. Clay Coady W/BW
Thursday   Danville Kennel Club  8/15/13  Mr. John P. Wade W/BW
Friday  Greater Hickory Kennel Club 8/16/13 Mrs. Sulie Greendale- Paveza W/OS over Special
Saturday Carolina Kennel Club 8/17/13  Mr. William Sahloff W/BW/OS  over Specials
Sunday Carolina Kennel Club 8/18/12 Mrs. Karin B. Ashe W/BW
And then it was on to Atlanta!!
4 Day Cherokee Rose Cluster – Zora won All 4 Day Best of Opposite
Thursday 8/22/12 Griffin Georgia Kennel Club
Judge: Mr. Jon R Cole W/OS New Champion 5 Pt Major (over specials) 33 entry
Friday 8/23/12 Sawnee Mountain KC of Georgia (My Birthday)!
Judge: Ms. Judy A Harrington Best of Opposite 5 Pt Major 41 entry
Saturday 8/24/12 RRCUS Supported Lawrenceville Kennel Club
Sweepstakes  Judge: Ms. Amy Penuel – Best of Opposite Sweeps 16 entry Rosette offered by Tammy McGill- Ramnes & African Bowl by Chris & Susan Morrill, Intrique
Regular Class Judge: Mrs. Molly Martin Best of Opposite 5 Pt Major 51 entry Ridgeback Blanket offered by Rick & Ruby Young
Sunday 8/25/12 RRCUS Supported Conyers Kennel Club of Georgia
Judge: Mr. Raymond V. Filburn Jr. Best of Opposite 5 Pt Major 51 entry Upcycled Hound Tote Bag offered by Denise Price, RokiShoal
Show Sponsored Overall by Edith Mrak!
MBIF ,Int'l Ch, UKC Ch, FC Zuri's Ropasa Escapade FCh MC CGC owned, bred, handled and Loved by Robyn Sasso
Zuri earned her MC at the SSCC AKC event held on 09/7/13 and  9/8/13 in Ocala, FL and topped it off on Sunday with BOB / Best in Field!!!! 
Announcing new champion, CH. Kengali's Unbridled Power  - Cooper!  Cooper is owned and loved by SSRRC member, Lisa McElroy.  You can read all about his brags in the Ring News section!


Our next new Champion is Bodhi.  Ch. Crosswick's Bohdi Hearts Disco Baby of Khalfani

This past June, at 18 months, Bohdi received his final Major and is now a CH. :) He finished at the Orlando Shows under Judge Dr. Carol White-Moser. Bohdi is Handled by Ron Bigford and I can't thank him enough.

Orlando, June 2013. It was a crazy day, but Bohdi was his happy go-lucky self ..as usual. It was a fun long year for us. I'd like to thank all my new RR friends for their support and encouragement. Some may not think about it but a kind smile has a way of reassuring you everything is going to be Ok. I'm delighted to be part of the Florida RR community as I received many smiles this past year. Many thanks to a lot of people for being part of this experience. ~kimi murphy



And yet another new Champion!

Zora -  Ch. Aariel's Red Dawn Rising Over Spring Ridge attained her Championship the first day of the Atlanta show cluster.  Congrats to Zora!!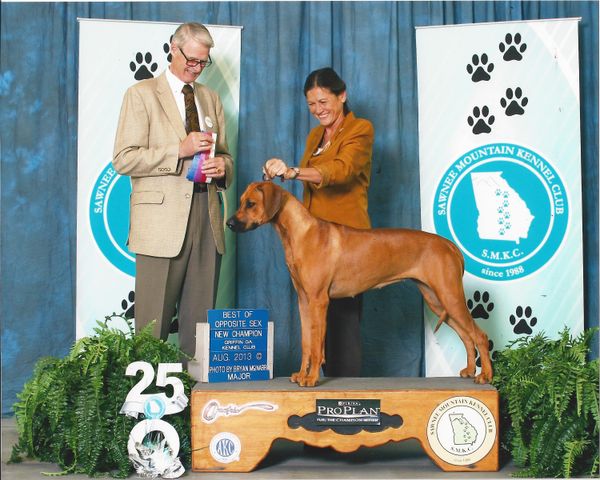 NEW GRAND CHAMPION
Gch Spring Valley's JoJo attained his Grand Championship in mid August!!  JoJo is loved and owned by member, Jane Hlis