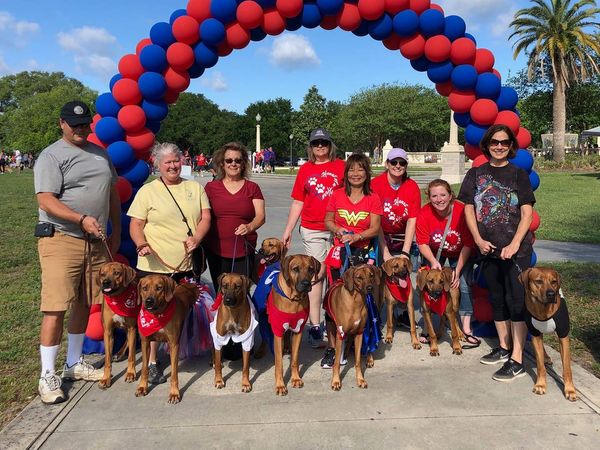 The Sunshine State Rhodesian Ridgeback Club (SSRRC) is comprised of ridgeback owners and fanciers throughout the State of Florida, as well as our neighboring states....and even out of the country!  We even have members that own different breeds!  Our mission is to provide resources to all Ridgeback owners, as well as to provide education and mentorship to future owners.   Our members show their dogs in a variety of venues, including conformation, agility, lure coursing, obedience, hunting instinct testing, to name a few.  Our goal is to promote the versatility of this breed, camaraderie and good sportsmanship.  We endorse responsible breeding and support rescue efforts.
WANT TO KNOW MORE? 

Then visit our parent club's website,
The Rhodesian Ridgeback Club of the United States
  (RRCUS) , where you'll find a wealth of information about this wonderful breed. 

Be sure and visit the
Health & Genetics
page to learn more and all that our breeders and members are doing to ensure the on-going health of our dogs.


Need help with training?  Check out Dr. Ian Dunbar,  http://www.siriuspup.com/about_history.html  His positive reinforcement training methods are easy to follow and work really well with our food motivated Ridgebacks!!