2015 has started off with a bang.  Our first coursing event happened on January 3rd and 4th at the Ocala Horse Park.

Our first Director's and club members meeting was January 10th where we voted in new members and talked about the upcoming year for SSRRC.

A recap of the meeting follows:

     All potential new members must attend 2 club meetings within a year prior to application to the club.  

    The Club has an Associate Membership available to all new members, old members and potential members that do not live in the club's primary area.  Associates members pay $25.00 per member per year and they are NOT required to attend the 2 meetings prior to application.  Associate members can not hold any SSRRC office nor do they have any voting privileges.  What are the benefits of an Associate Member?  You are a member of a Specialty Club.  You have access to the Member's Only page on the SSRRC website.  You will be invited to Member Only events.  You have the privilege of being able to submit Brags for the Newsletter.  Best of all.  You get to have fun with all the other members.

     
The Meet the Breed booth is being chaired by new member Paula Alshouse and Mary Nighswonger.  If you are interested in joining the committee or working the booth, please let either Paula or Mary know.  
Paula:  petdoc@cfl.rr.com 
Mary:  mary.finedesign@gmail.com
     Eukanuba will be December 12th and 13th, 2015.  We are planning the 2nd SSRRC Regional Specialty for Friday, December 11, 2015.  For more information regarding the Eukanuba judges, click the link below:
Eukanuba judging
SSRRC will also be holding CABT event on May 16th and 17th in association with the shows at the Deland Dog show - Greater Daytona Kennel Club.  We need volunteers to be out there to help once again.  Paperwork, huntmaster, roll call and inspection.  Please let Matt, Ginny or Denise know if you can help and whether or not you are available to remain on the field when the Ridgebacks are showing.  
We have decided against holding a CABT event in September with the West Volusia Kennel Club.  These dates conflict with the RRCUS NAtional Specialty and since the majority of us will be traveling to Rhode Island, it was decided to NOT hold this event.
At the meeting we voted on and welcomed new members:

            Raul Lopez
            Paula Alshouse, DVM
            Janet Mitchell
Marilyn Tobey, DVM
Did you know we have a Facebook page?  Click on the link below and request adding to the page.  Yes, unfortunately, it does have to be a private page due to all of the spammers out there.
 
Our Facebook page is kept up to date with events coming up as well as news and links and rescue information.
Please join us today.
SSRRC Members did fantastic at the very first Regional Specialty held on December 12, 2014.  Here is a complete listing of the Results.  Those highlighted in

BLUE

are SSRRC members that owner handled their dogs to these great placements.

RESULTS
Puppy Sweepstakes (6-3)
Judge: Rosann Sexton
BISweeps Puppy: Sulawesi's Inconceivable,
Owners: Liz & Chris Demery
BOSweeps Puppy: Ridgeview's She's Authentic,
Owners: Janet Mitchell, Susan Ralston, VMD, MaryAnne Draper.

Veteran Sweepstakes (1-3)
BISweeps Veteran: Ch. Yandisa Just Call Judah First, J.C.
Owner: Debbie Welsh
BOSweeps Veteran: Peaches of Tagojo
Owner: Robyn Sasso

Regular Classes Catalog entries: 5-18 (18-7) 1-3
Judge David R. Miller
Best of Breed: GCH Adili's Renni Mac Scott's Spirit
Owners: Nancy Tisdale & Tammy Lynch
Best of Opposite: GCH Celtic Lore's Moonlight and Magic
Owner: Dawn Garbett
Select Dog: GCH Bakari's Lor Vitra Caymus CGC, CA
Owners: Nicole & Gordon Ballyntyne
Select Bitch: GCH DC Regal Tolerton's Luminara Unduli for Bindura, MC
Owners: Denise Eberhard & Matthew Coughlin
Award of Merit: GCH Kimani's Indelible Impression, JC
Owners: Alice Walls, A. Hanna, E. Demopolous & R. Porter
Award of Merit: GCH Kengali's Captain's Last Command
Owner: Ginny Merchant
Award of Merit: CH Camelot's Golden Boy With Hypnotic Eyes
Owners: Ralph Buster Fagan, Jr. & Rachel Dunaway Fagan
Winner's Dog: Terra Christa's Master of Whisperers by Aariel
Owners: Alessandra Thomas & Stacey Ford
Reserve Winner's Dog: Kengali's Thando
Owners: Rafael & Joy Etzion
Winner's Bitch/Best of Winners: Ridge View's She's Authentic
Owners: Janet Mitchell, Susan Ralston, VMD, MaryAnne Draper
Reserve Winner's Bitch: Terra Christa's Sera Tempesta
Owner: Raul Lopez

Enjoy the below photos of the members and their dogs.
RING BRAGS
 
SSRRC Members have a lot to brag about!!

Winning a 4 point major at the Inverness Kennel Club, in Brooksville, on January 15, 2015 is Raul Lopez and his girl, Terra Christa's Sera Tempesta.  Congrats!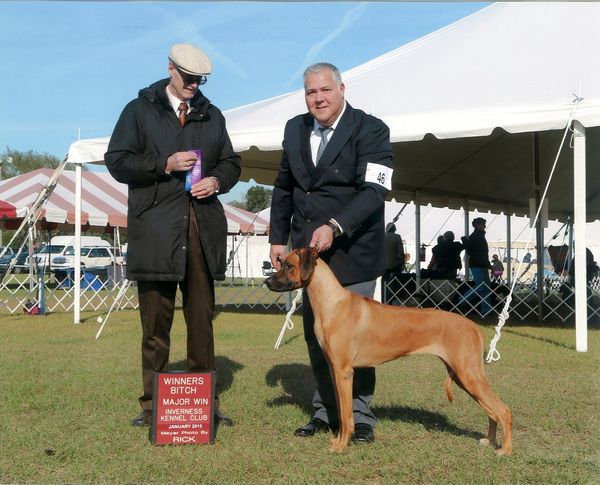 Savi's 2nd Major  1/18/15


Ridge Views She's Authentic 
Judge Deric D. Aube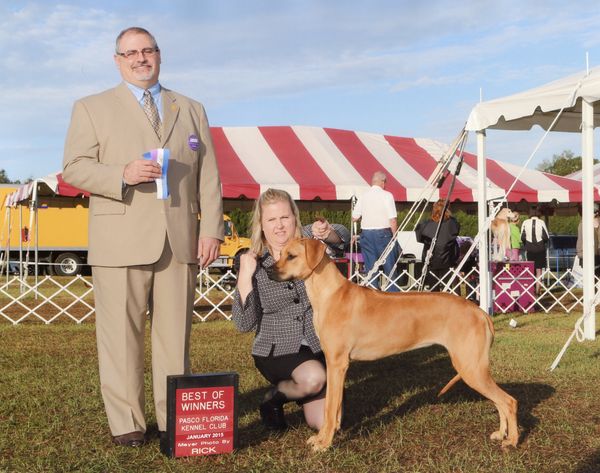 JafariRidge Copacabana Showgirl of Spring Valley. Winning WB/BW in West Palm Beach, FL. Expertly Handled by Ely Betancourt.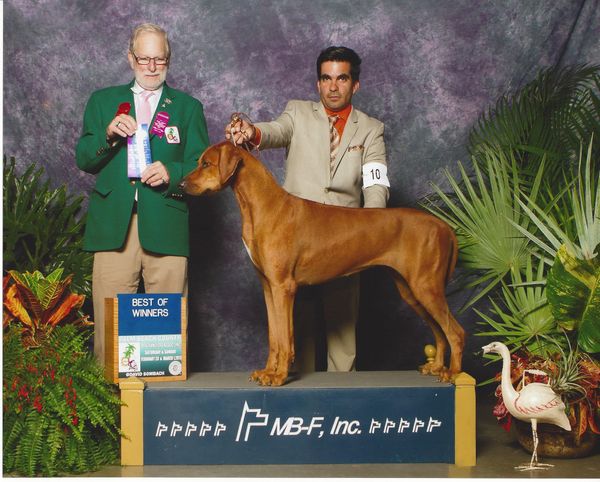 JOJO's RBIS January 15, 2015 in Erie PA!!
He also had 4 group ones--2 in Buffalo Jan 7,8 and Erie, PA Jan 14,15.  Back to back to back to back!!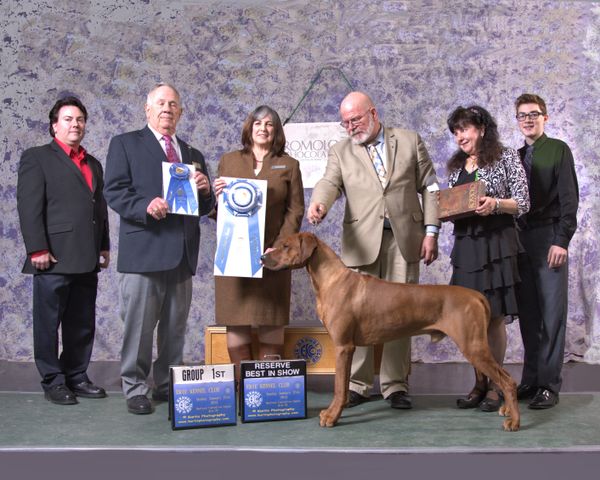 GCH Spring Valleys JOJO
AOM Westminster Kennel Club.  Keep rollin' JOJO!!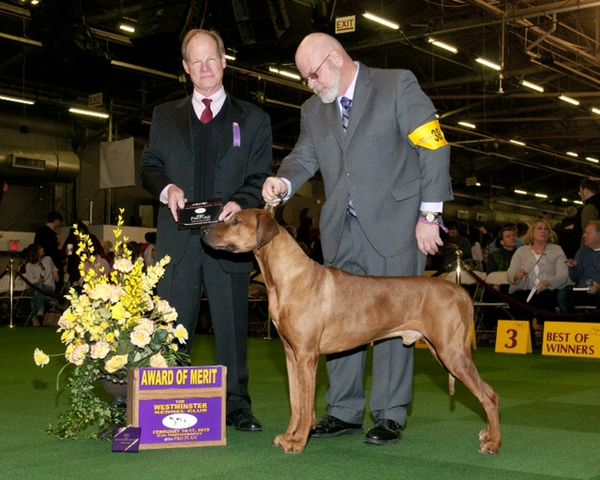 NEW CHAMPIONS and GRAND CHAMPIONS
Leigh Kniskern's girl Risa (CH Amadiki's Tarisai Dadirai) got her championship at Brooksville on January 16, 2015. Risa was born May 7, 2013, and is Sammi's daughter.  Leigh doesn't have a picture but congratulations on Risa's new title.
We have another new champion!  On January 11, 2015, new SSRRC member, Raul Lopez, guided his girl, Sera, to her second major and her championship.  Sera is now CH. Terra Christa's Sera Tempesta.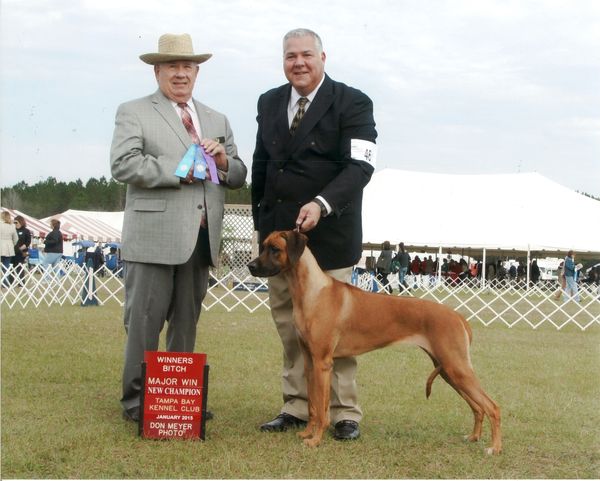 AND A REGISTER OF MERIT
Congrats to Carmen, Ch. Spring Valley's Cigar Girl of Jafari Ridge, ROM.  Owned and loved by Linda Gaunaurd.  Carmen has achiebed this goal with the following champion get:
GCH JafariRidge Xhabbo of Spring Valley
CH JafariRidge Kito "Diesel" of Spring Valley
CH JafariRidge Briseis of Spring Valley
CH JafariRidge Ghost and the Darkness "Tsavo" of Spring Valley
CH JafariRidge Kamatz of Spring Valley
CH JafariRidge Shani of Spring Valley
MX CH JafariRidge Enzi Kafil Rashidi of Spring Valley
 JafariRidge Copacabana Showgirl "Lola" of Spring Valley - Needs only 1 pt.