Welcome SSRRC Members and guests to the site.  Once again, our members have been very busy this quarter.  



Please remember that in the 4th quarter we have elections for SSRRC's Officers and Board of Directors for 2012.  Our current nominees are:





President:

                 
Matthew Coughlin
Vice President:        
Paula Alshouse, DVM


Treasurer:

                 
Lisa McElroy

Secretary:                 
Ginny Merchant

Board of Directors:  


Kim Myers




Cassandra Carpenter


Linda Gaunaurd

All members have until

September 24, 2011

to write in additional nominees.   Please look for Officer and Board Member bios to be sent out soon.  
Voting takes place at the Ocala show on November 19, 2011.  

Voting will be done by secret 

ballot.  



This is a very important meeting and it would be great to see everyone there.  





Welcome New member Lisa McElroy.  Below is an introduction from Lisa herself:

My name is Lisa McElroy and I moved to Florida 3 years ago from Santa Monica, California. I was introduced to the Rhodesian Ridgeback breed in California in the mid 90's when one of my best friends purchased their first Ridgeback, Purvis. I have always been a huge dog lover, and owned a Collie, named Prince, as a kid. As I got older I lived in apartments and couldn't have a dog so I became a dog/house sitter for friends and acquaintances. As a dog sitter, I was exposed to many different breed types, sizes and temperaments. At first, I was intimidated by my friends Ridgeback, due to his size. However; he quickly won over my heart by his fantastic demeanor that not only exuded confidence, courage and bravery, but was laid back and cuddled up on the couch with me like a marshmallow.

As I became more interested in the Ridgeback, I began researching about them by reading on the AKC, the Rhodesian Ridgeback Club of the United States (RRCUS) and Sunshine State Rhodesian Ridgeback Club (SSRRC) websites. I looked up a few of the local breeders and was certain the Ridgeback was the breed for me. I called around to some of the local breeders, but unfortunately none of them had any pups available, at that time. I called the RR Rescue, but they didn't have a puppy available, either. I researched and found Diesel on Petfinder.com. He was a mix breed rescue living with a foster family in Ocala when I adopted him. A year and a half later, Sedona came to me from Kengali, bred by Ginny Merchant. She is a STRIDER x PARIS pup and named Kengali's Sweet Alyssum "SEDONA". Another year and a half later came Cooper, the newest addition to my family. He is a show quality pup bred by Ginny Merchant and is a SACHI x JAX pup, he is 10 weeks old and named Kengali's Unbridled Power "COOPER". Look for Cooper in the ring and lure coursing events in 2012.





Ray Scott
lives in Havana, FL with his 3 Ridgebacks, Frita, Sheba, and the new addition to the family, Victor.  Since 2001, he has been working on environmental policy for the Florida Department of Agriculture and Consumers Service.  When he is not busy woth work, or playing with Frita, Sheba, and Victor, Ray is an avid cyclist.
 Brand New Champions this Past Quarter

Always exciting to announce the new champions



Announcing brand new champion Ch. Terra Christa's Shock N' Awesome Zane.  Zane finished his championship with a 5 point major at the Central Florida Kennel Club's show on June 25, 2011.  Congrats to proud owner and SSRRC member, Rhonda Johnson.  Zane also took a 5 point major the day before at the Brevard Kennel Club.  Way to go Zane!


Another New Champion is Ceci - CH. Spring Valley's Scilla of Jafari Ridge.  Ceci completed her AKC championship with a 3 point major at the St. Petersburg Dog Fanciers Association show on June 18, 2011.  Ceci is owned and loved by Manny and Linda Gaunaurd.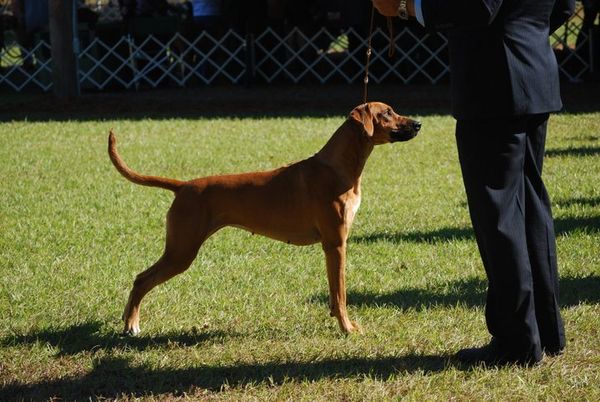 photo by Denise Eberhard
It's Never too late to Announce New Champions

Member, Suzanne Foster, is proud to announce her new champions.They may have finished their championships in 2010, but it's never too late to recognize 2 new champions:

Ch. Illimani's Tears of the Moon (Kasane) was expertly shown by Jeffrey Brucker and Stephanie Hall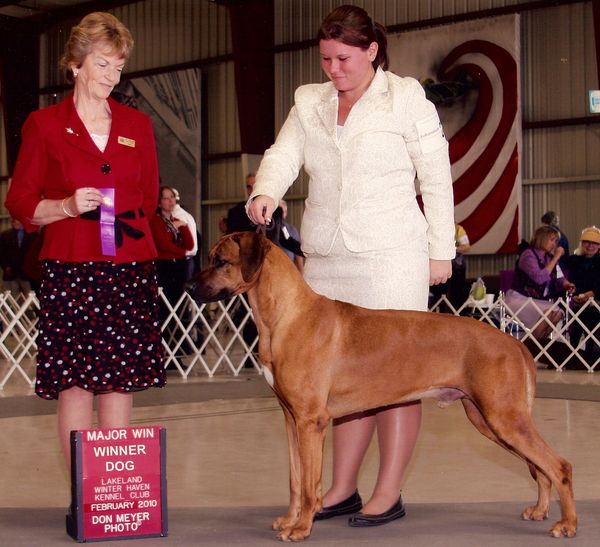 Ch. Illimani's Tears of the Sun
(Marula) was handled by Sharon Turner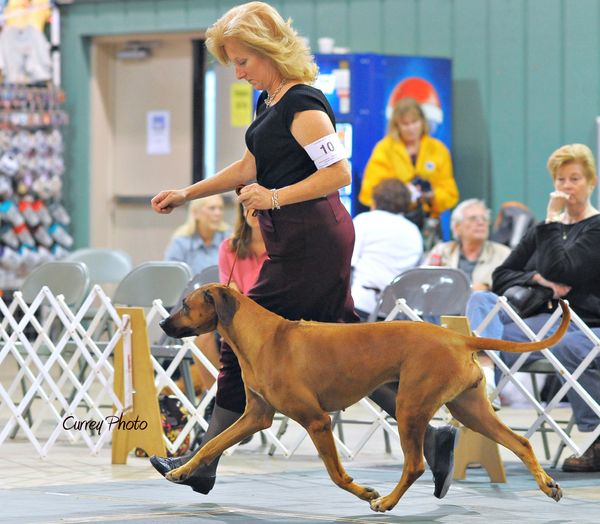 News from the Show Ring.  Our Members have much to be proud of.


Bindi went to Greensboro, North Carolina in mid-August and came home with 5 Best Of Opposite wins and an Owner Handler Group 4 placement.  Bindi is owned and loved by Denise Eberhard and Matthew Coughlin.  Bindi has always been handled by an owner.  

GCH Regal Tolerton's Luminara Unduli for Bindura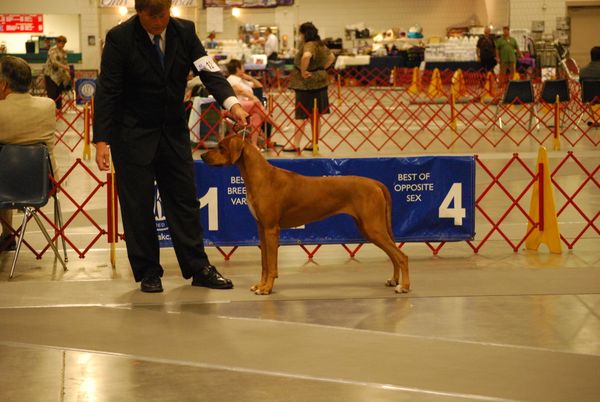 Another big winner was Zane.  Zane was Winners Dog on Friday, June 24, 2011 for a 5 point major.  

Terra Christa's Shock N' Awesome Zane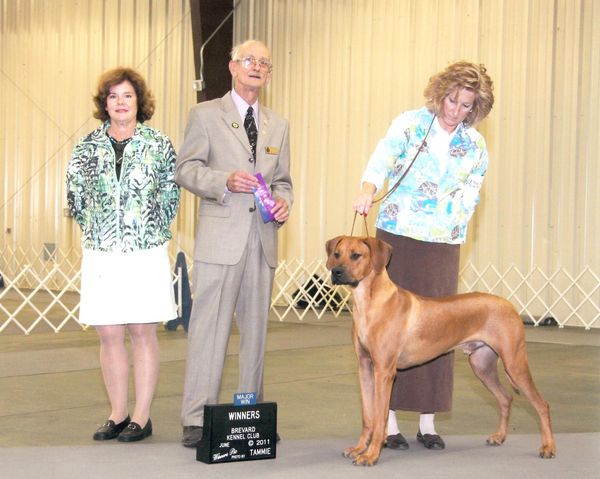 Another 5 point major winner at the same cluster of shows was Michsa.  Mischa got her 5 point major on Saturday, June 25, 2011. Mischa is owned by Giunny Merchant.
FM's Mystic Spirit of Kengali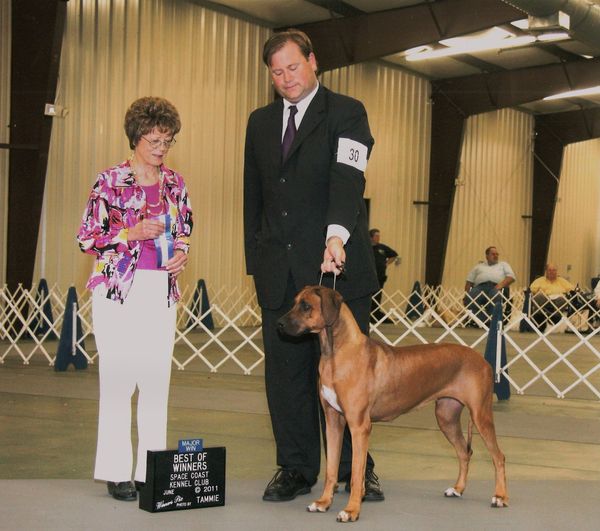 Toby, Spring Valley Ridgehill's I Wanna Talk About Me, spent the summer up north and earned some BIG wins.  On 8/4/11, at the Ft. Steuben Kennel Association show, Toby was Best of Breed over 7 specials (some of them Nationally ranked) for a 5 point major. Eight days later, on 8/12/11, at the Penn Ridge Kennel Club, Toby earned a 3 point major when he was WD/BOW.  Way to go Toby. Toby sure has made Dixie and Randy Saxe proud as well as Carol Smith, too.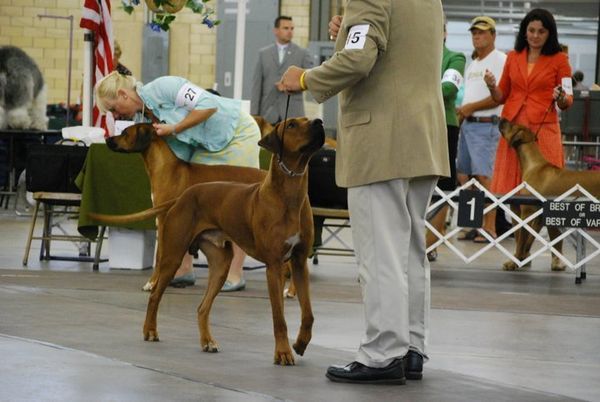 Photo by Denise Eberhard
Congratulations go to BG - Khalfani's Safari Sunset By Tigris - for his 4 point major at the Jupiter-tequesta Dog Club show on July 16, 2011.  BG is owned and loved by Alan and Dr. Paula Alshouse.