This is the 2nd Quarter Newsletter.
Our member's meeting for the rest of the year are as follows:
September 20, 2014 at the West Volusia Kennel Club show at the W. Volusia Fairgrounds.

November 15, 2014 at the Greater Ocala Dog Club show at the Greater Ocala Dog Club site.
RING BRAGS
Kahara New Champion, March 8th, Nashville Kennel Club, Franklin TN RRCUS supported show, Judge Terry Stacey.  He is CH Kengali's Kahara Banjul, owned by Ginny Merchant and Gary Koenig.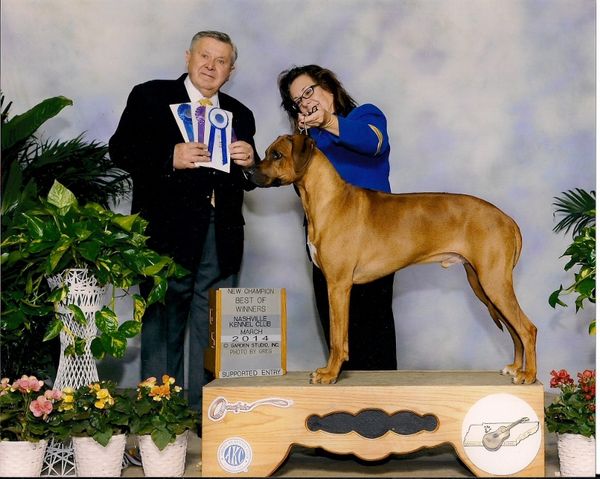 Ygritte - Kengali's Kissed By Fire, BOB  from the classes, April 6th, Jacksonville Dog Fanciers Assoc  Judge Dana Cline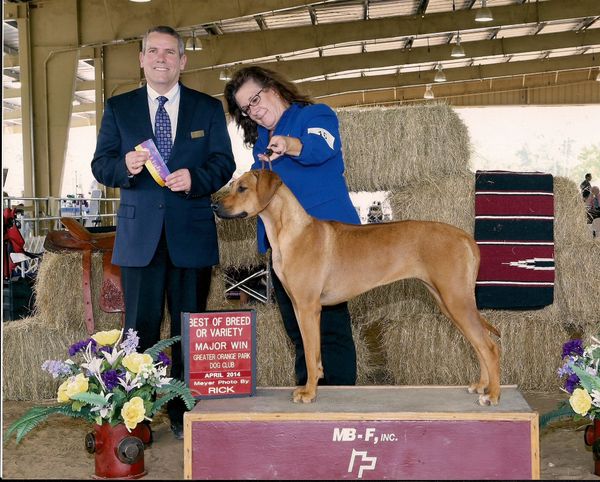 At the North Georgia Hound show in Perry in April, GCH DC UnderCover Legend of Jezabel, SC, TT (Jezabel) was the Basenji Best in Veteran Sweepstakes and took Group 4 in Veteran Sweepstakes.  Her brother, GCH DC UnderCover Legend oh Jacen, SC, TT (Jacen) was BOS in Veteran Sweepstakes.  All 5 of Jezabel's 17-month old puppies - from her 2nd litter - Ringo, Arabella, Jingle, Annabelle, and BellaBoo came from North Carolina, Texas and Florida to see Mom and competed in the regular classes on the other days in Perry with great success. All in all - great family reunion!  Jezabel is now on the Basenji Brood Bitch Honor Roll based on the success from the get from her two litters!!!  Owned and loved by Deborah Mizzoni.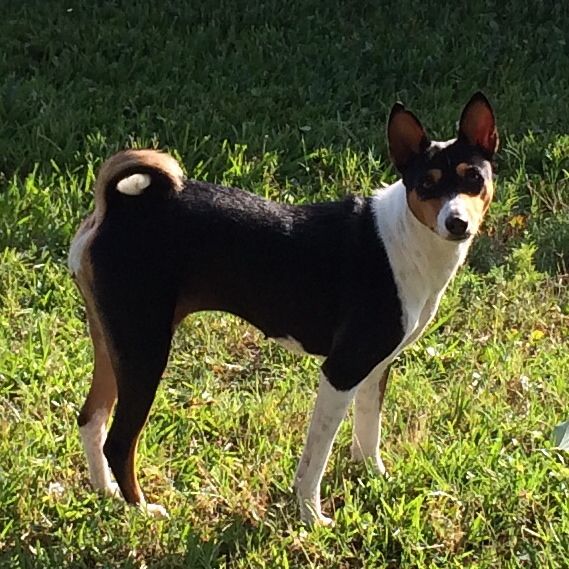 Ridgehill's Gabriela was Winner's Bitch at the Vero Beach Shows and picked up 2 more points toward her championship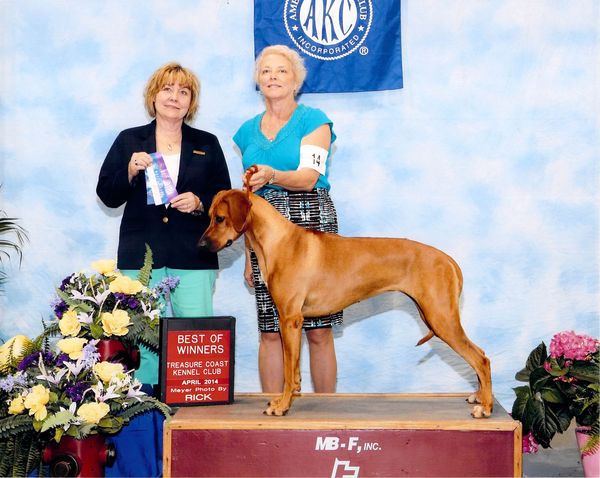 Ridgehill's Ryder went Winner's dog at the Vero Beach show on April 26th!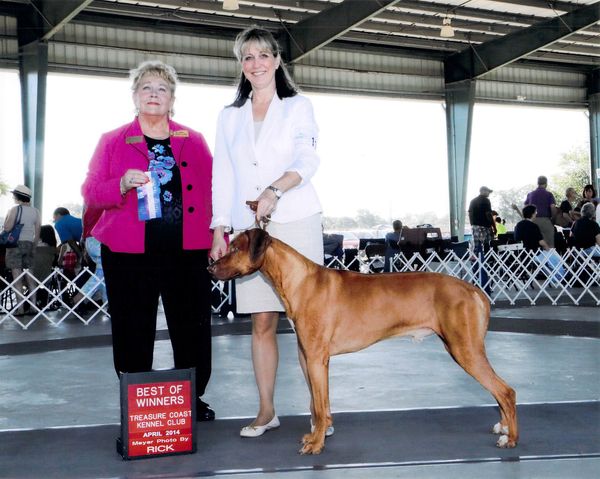 Legend - new Grand Champion, April 10th, Valdosta Kennel Club, Perry, GA, under Judge MaryAnn Alston
GCH Kengali's Captain's Last Command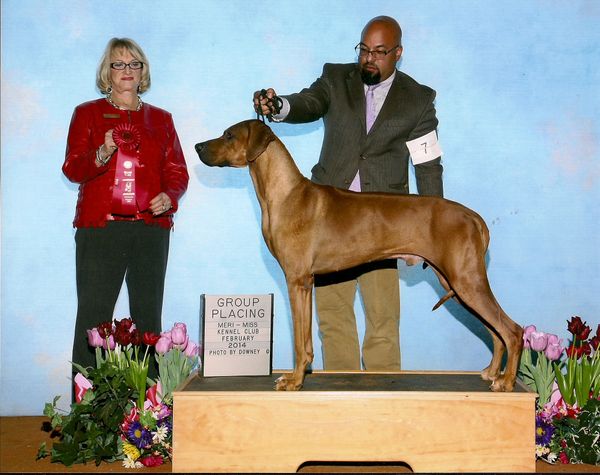 BIF GCH DC Aariel's Red Dawn Rising over Springridge – Zora
Wins Best of Breed in Vero Beach Sunday 4/27/2014
Treasure Coast Kennel Club of Florida
Judge: Mrs. Helen Winskin Stein
Beautifully handled by: Mileah "Sweetie" Kay
Proud Owners: Rhonda Johnson, Ross Johnson & Stacey Ford
Breeders: Carol Burridge, Jason Burridge, Diane Engelking & Stacey Ford
Zora is 20 Months old in this photo.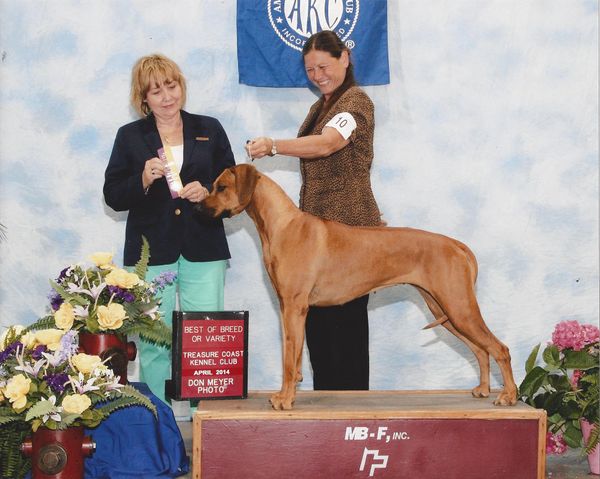 Gch RidgeHill Spring Valley's I Wanna Talk About Me
 - Toby.
Owned and loved by Dixie and Randy Saxe and Carol and Bill Smith.  Toby earned his Grand Champion title at the Vero Beach shows in April.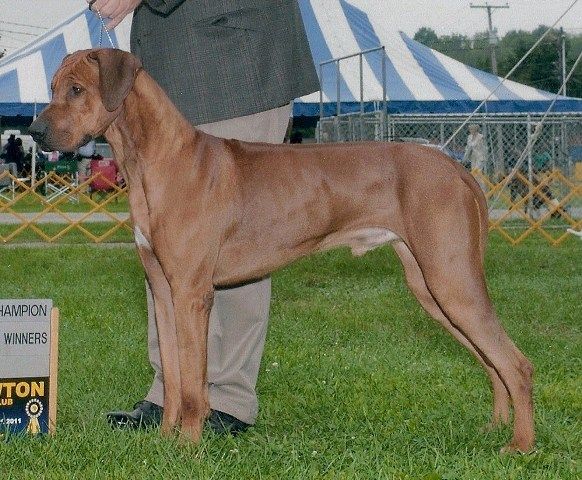 **************************************************

At the Greater Valley Forge Rhodesian Ridgeback Club's Regional Specialty, Bindi - Gch DC Regal Tolerton's Luminara Unduli for Bindura, SC, Fch - went Best of Opposite Sex.  The total entry was 86 Ridgebacks.    Bindi has always been owner handled by Matthew Coughlin.  

May 4, 2014
Greater Valley Forge Rhodesian Ridgeback Club Regional Specialty/Trenton Kennel Club
Trenton, NJ
Judge Douglas Johnson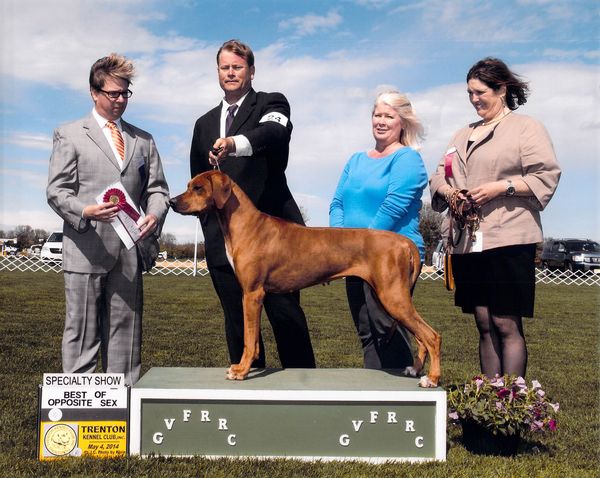 BOCA  SHOWS
 
The Boca Raton shows were June 7 and 8:
Back to back Best of Breed wins for Jojo (Gch Spring Valley's JoJo) in Boca.  Way to go JoJo.  JoJo is owned and loved by Jane Hlis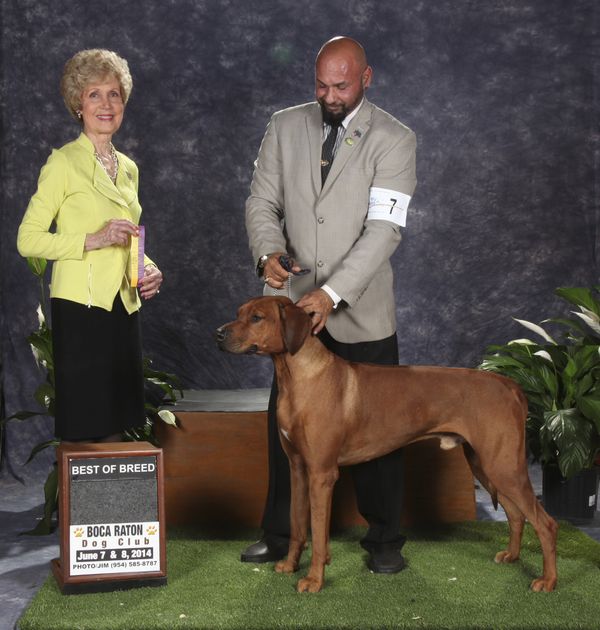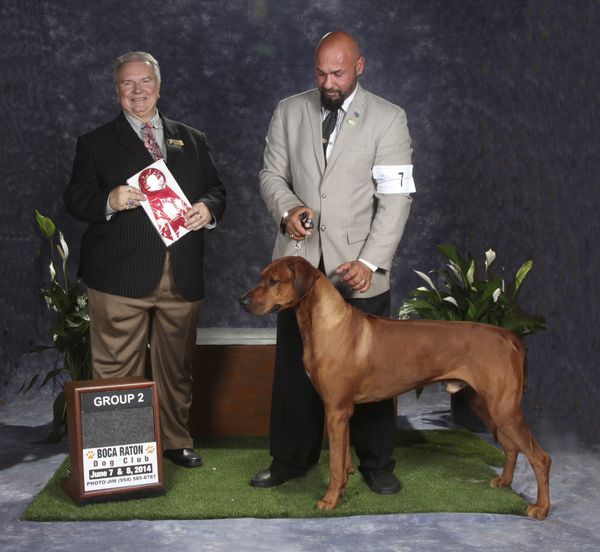 The photos from Tampa and Orlando shows have not arrived.  We will catch those brags in the next newsletter
DUGGA IS WELL ON HIS WAY TO HIS REGISTER OF MERIT
 
Owned and loved by Manny and Linda Gaunaurd, Dugga - Gch TuckerRidge Dugga Boy of Simba Ridge, CGC, has earned a spot as one of the top stud dogs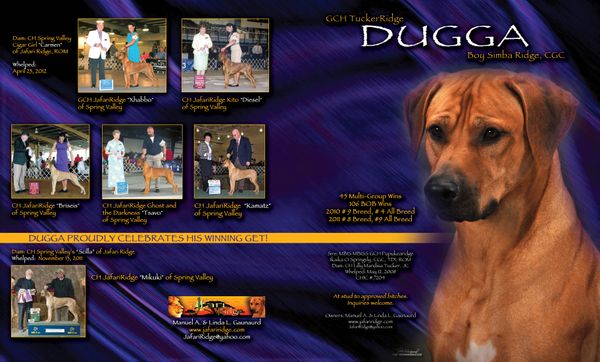 A RESCUE STORY
Many of you never get to see what Rescue is all about or hear of the dogs we are able to save. So I'd like to share the story of Max, who came into rescue in February. 
 
This is Max, a beautiful 4 year old purebred Ridgeback. I know....many of you are saying, no....he isn't a RR. But trust me. I even know his breeder, so I know he's a purebred. He was surrendered to RRRI in February because his family didn't want to take care of him any more. He was "free" on Craigslist, but once people got a look at him, they walked away and no one wanted the poor boy. So Rescue was finally able to get him.
 
He hadn't seen a vet since he was 4 months old, in Jan 2010. This is the way Max looked when we got him. He weighed 132 pounds, had massive yeast infections in his ears, eyes and skin. His fur was totally gone on his underside from the tip of his chin  to the tip of his tail, including the inside of all 4 legs. And I mean totally gone....not one hair remained. His skin was black, crusty, flaking off and, to put it politely, extremely odorous from the infection. Max had been in this condition for most of the 4 years the owners had him, and never took him to a vet to find out why. They just threw him outside in the dirt and wet grass because he smelled bad and couldn't be in the house.
Now, let's roll poor Max over on his back so you can see how incredibly neglected this poor boy really is. As I said, not one hair from his chin all the way to the tip of his tail, including inside his legs. Plus you can see his ears are so crusty with infection the edges are cracked and falling off.
 
Despite this, Max was a loving and gentle boy who craved any attention he could get. After all, he smelled so bad, no one wanted to get near him. But the Vet and his staff took him under their wing, and began their magic. Max was given massive amounts of antibiotics and they began bathing him 2-3 times every week with medicated shampoo, putting a special conditioner on his skin and brushing him with a soft brush to remove the old, crusty skin. His ear and eye infections were also treated and he was neutered. Although I'm told the vet had to fumigate the back area where he was every day, they pushed on and gave Max the physical care he needed and all the loving and petting they could. Extensive labs and blood work also showed Max was suffering from hypothyroidism, which had gone undiagnosed and untreated for years.....and this was the result.
 
One of our rescue volunteers, Sissy, started going by the vets office every week to visit Max and check on his progress, as well as give him a little loving and extra walks outside. She was going to foster him when he was well enough to leave the clinic and wanted to get to know him a little. 
 After 5 weeks at the vets clinic, Max is finally well enough to go to his new foster him with Sissy. Due to his thyroid condition, he will need daily medication for the rest of his life and the medicated baths and conditioners will also have to continue for at least another month.
 
Finally, Max is in a home with his foster family and has obviously taken to their teenage daughter. He is now safe, well cared for and loved for the first time since he was 4 months old.
 
But, the story isn't quite finished yet..... 
And shortly ago, a forever home was found for Max. This is him with his new mom, his canine brother and sister (who are much, much smaller) and Dad is taking the photo. Max has been adopted and is now finally in a home who will love him and give him everything he needs. Max has a family. His fur is already growing back on his chest and tail and although his skin is still gray in several spots, it is now soft and free of infection. In a few more months, most of his fur will have returned. Max's new dad is a Paramedic and understands the medical needs of Max and will see to it he gets all the care he will need for the rest of his life.
 
And now, you know the rest of the story.
 
So don't ever doubt that any part you help with is critical to saving these beautiful dogs. God bless you all for everything you are able to do to make dreams like this come true.  Max is alive today only because of the wonderful volunteers and Ridgeback Rescue.
A request from Charli Ritz:
I have not yet gotten information from most of you, so still do not have phone numbers or address/city where many of you are located. I am trying to get a list together so when I need help, I can contract those who are close to where that help is needed. However, it is taking much longer than I expected to reach everyone and get a response. So, if those of you who have not yet responded to the email would be willing to share at least a phone number and what city you are in, that would be a huge help. Also, if you are receiving this email and no longer wish to be on the list of those who are contacted for help with rescue, please let me know and I will remove your name from the list.  
I have two new applicants interested in adopting a rescue. One family is in Merritt Island and the other in Plant City. Their phone screening has been completed but in order to complete their application, a home check is needed. If any of you are willing to go to either location and meet with the applicant, please let me know. I will provide a form for you to complete. It is simple to do and basically only requires that you make sure the home is a safe place for a Ridgeback. I will be glad to go over what is required and give you a quick "training" lesson and answer any questions you may have. This is the final step to approving a family to adopt one of our rescues and is very important to completing the screening. If you are able to do it yourself or know of anyone that lives in either of these areas who would help out, please contact me at 407-886-4184. 
If you have not yet received a personal call from myself or Patti, who has been helping, please just reply with what city you live in and a phone number where I can reach you. All I have for most of you is just an email address. 
We have dogs waiting for homes, and homes waiting for dogs.....so please help me bring them together. As always, many thanks for anything you can to do help us help the Ridgebacks in need.
NEWS YOU CAN USE

September 20 and 21, 2014:  SSRRC will be holding CAT tests as well as JC/QC tests at the Volusia County Fairgrounds in coordination with the shows being held there.  Please come out and join us and volunteer to help out.  We need huntmasters, paddock masters and roll call people to make this event successful.  

Looking to have Lure Coursing come closer to your area?  Find us a field.  For Trials we require at least 10 acres of COMPLETELY FENCED land.  The field needs to be clear of rocks and holes and cacti.   Please inspect the field yourself, take photos and send them to Matt at deberhard21@yahoo.com.  If there is need to contact the owner of the property, please do that as well.  The club will pay a reasonable rental rate for the week end and the club does have insurance for these events.  

October 17, 18 & 19, 2014:  SSRRC will be holding AKC Lure Coursing tests and trials up on the Spring Ridge Field in High Springs, FL.  On Friday (the 17th) Bob Mason will be in town to conduct a Coursing judge's seminar.  If you have thought about becoming a judge, this is a mandatory seminar.  
The cost is $25.00 for SSRRC Members and $100.00 for non-members.

Please join us.  

REGIONAL SPECIALTY NEWS
The AKC has us on the calendar and we are set for December 12, 2014 at the Orange County Convention Center pending getting a few items to the AKC - which are on their way.  Mr. David Miller has agreed to judge for us.  We picked a hound judge that was already going to be at the Eukanuba show in order to save on expenses.

Please remember ALL of this is still pending.  We will definitely let everyone know as soon as it is a positive go!
We will need lots of day of help and sponsors for trophies.  Look for more information to come.