On February 19, 2011, the Board of Directors, as well as members present, voted in new members.  We would like to send out a big welcome to:

Rhonda and Ross Johnson

Monica Smith

Raymond Finn

Jackie Porter

Robyn Sasso

Welcome to the Sunshine State Rhodesian Ridgeback Club.  Glad to have you on board!
Ormond Beach started the show year off for many of the SSRRC members and their dogs.  The shows at Ormond saw first points for many of the new dogs.  Let's hear it for the boys!

Jethro - Kengali's Beyond Boundaries - owned and loved by Ginny Merchant - Winner's Dog on Friday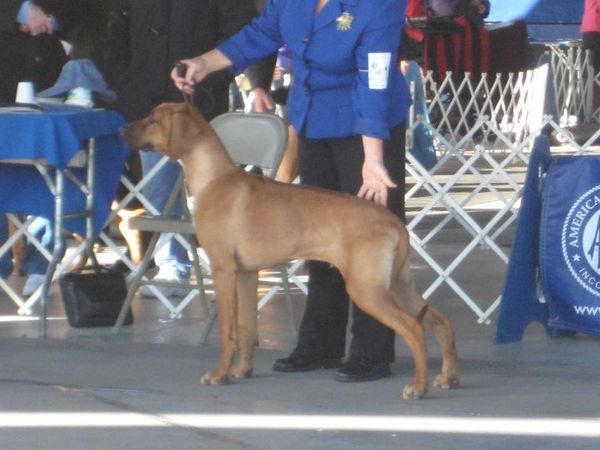 And then there is Bullet - Ridgehill's Shooter's Red Bullet.  Owned and Loved by Carol and Bill Smith.  This young boy got his first points in Ormond Beach on Saturday!!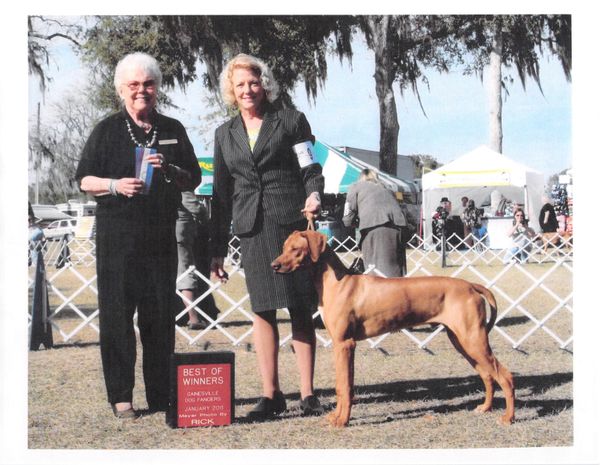 And finally, let's not forget Toby - Spring Valley-Ridgehill's I Wanna Talk About Me.  Toby got his first 2 points on Sunday!  Toby is owned and loved by Dixie and Randy Saxe and Carol Smith.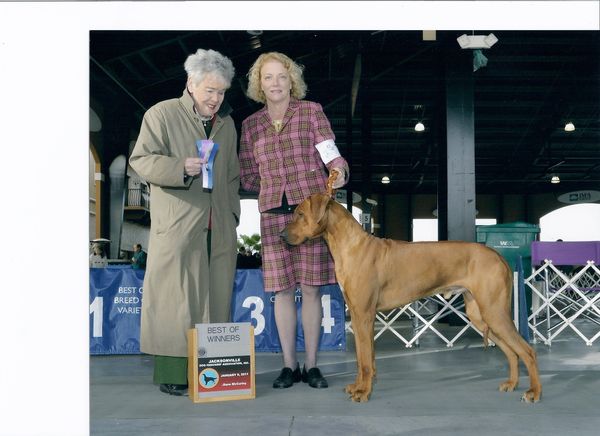 All of the boys were owner handled!!



And there were some other bigs wins as well.



On Friday, January 7, 2011, Bindi, owned and loved by Matthew Coughlin and Denise Eberhard, went Best of Breed.  
Here is Bindi - Ch. Regal Tolerton's Luminara Unduli for Bindura.  Bindi has always only been owner handled by Matt Coughlin.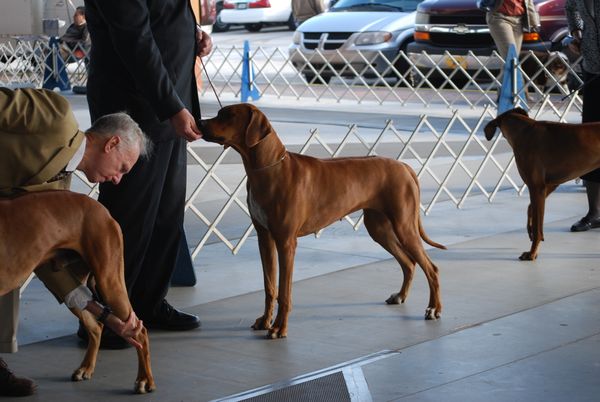 And Star got her first major in Brooksville.  Star is Kimani's Rising Star at Windermere and is owned and loved by Elaine Petersen.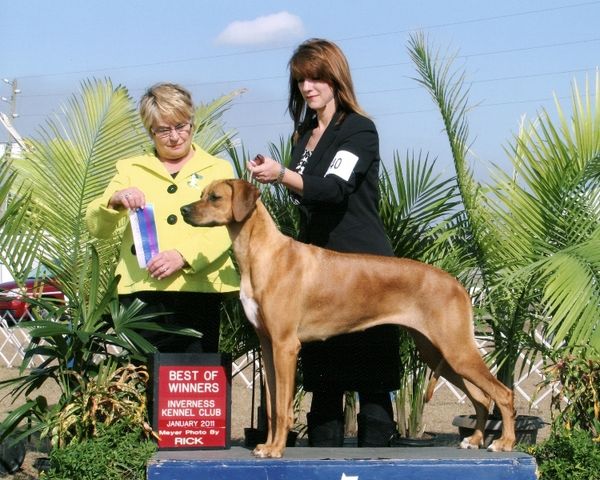 GCH CH Khalfani's Dreamcatcher of Roccridge "Sabu" was invited to Eukanuba 2010 and had the No 1 Grand Champion Bitch Points for a Ridgeback in the State of Florida (AKC, February 4, 2011.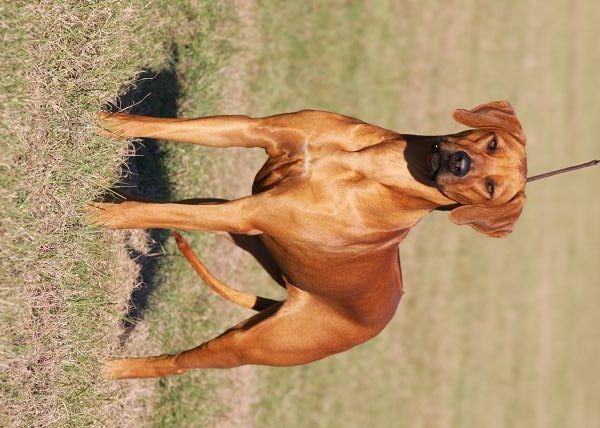 Dr. Paula Alshouse and Khalfani Kennels have received the AKC Breeder of Merit Certification!  
Way to go Dr. Alshouse!

Two Florida Girls Do Manhattan 



Bindi and Esme traveled all the way to New York City to show at the Westminster Kennel Club at Madison Square Garden on February 14, 2011.  The drive was long, but everyone was excited to make this trip.

Once in the city, we made our way to the Hotel Pennsylvania and downstairs to the infamous wood chips to try and do some "business." The girls proved to be real troopers and decided it was warmer to take care of business inside than try to go in to the cold and on the cement outside.  

The benching area was crazy.  All of the hounds were mushed together and crates were on the floor and there was no place for the owners and exhibitors to sit.  Needless to say, 9 hours on your feet was no fun, but the electrically charged atmosphere of the backstage area seemed to take all of that away.

Show time started for the Ridgebacks at 2:30, and there were 56 of them.  Broken up in to several groups, Bindi and Esme were in the last group of bitches and it was 3:30 before they saw the green carpet.  

Wow!  The excitement and the crowd proved to be too much for Bindi.  She danced and pranced around the ring and showed that she was definitely happy to be there.  Esme looked like an old pro.  And when it came time for the judge to make his first cut, ESME MADE IT!  We were all very happy to see this Florida girl make it to the next round.  Go Esme.

And then, Esme made it to the second cut and was awarded an Award of Merit - proving she was one of the best of 56 Ridgebacks that day

Way to go Esme.!  You made all of us proud.  Best of all, Esme was owner handled by Ginny Merchant.  What a great day!