SECOND QUARTER NEWSLETTER
Our members have been busy this quarter with shows, coursing, judging and attending matches.  
We got a little derailed by the Canine Flu Outbreak.  

Welcome new members Michelle and Jim Holmes.  The Holmes are Associate members and own Briards.  They are thinking about getting a sighthound and are enthusiast for the CAT events and are both CAT judges and are looking to put on more CAT events with SSRRC.  

We are planning a meeting for June somewhere in the Orlando area.  Stay tuned for information regarding that.  It will be a lunch meeting at a restaurant.  

At our meeting in August, we will be voting on new members provided they have attended 2 meetings:

Lisa Stein (Sponsored by Ginny Merchant and Denise Eberhard)  
 
Reminders for the SSRRC Club meetings.  Please make sure you check the club site for meeting dates.  Sometimes those that are responsible for reminding others need to be reminded themselves and don't get the emails out in time.  Please take the time to check in on the club website.
August 12, 2017: Meeting in High Springs.  Future elections to be discussed.  Nominating committee to be put together
September 23, 2017      West Volusia County Fairgrounds  (To be run by either the First VP or the Secretary since President is out of town.  Elections to be discussed.

October 14, Grand Oaks Horse Park during lunch break.  

November 18, 2017:  Greater Ocala Dog Show Grounds  After Ridgebacks show.  Board elections will be discussed

December 15, 2017:  Place to be determined but somewhere down on I-Drive after the Regional Specialty .  Board Elections
YOU MUST BE PRESENT TO VOTE

This is just a preliminary schedule.  
Meera - FC BinduraTolerton Meera OfCourse, MC - was Best of Breed at the Greater Valley Forge RR Club's AKC event on Sunday, April 16, 2017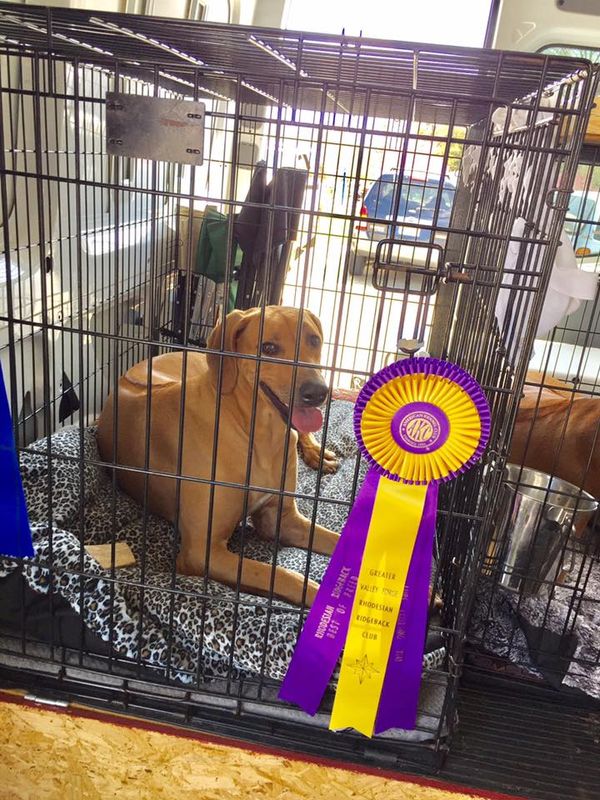 RING NEWS
 
Khalfani's Redds Apple Ale completed his AKC Championship at the South Dade Kennel Club in March by going BOB.  Pictured here at Greater Gainesville KC.  Expertly handled exclusively by Cassandra Carpenter. 
 A proud day for Paula Alshouse, Everett and Laura Cooper.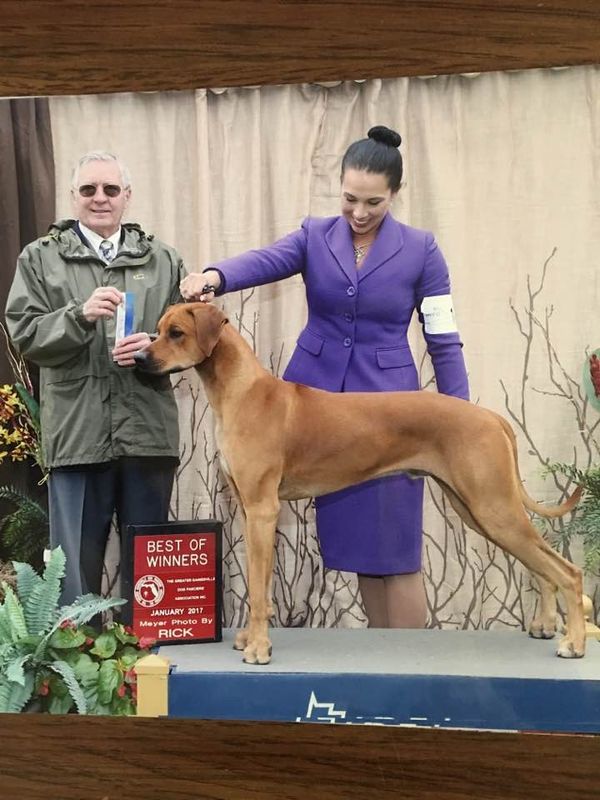 CH JafariRidge Saber of Spring Valley
What a way to finish, Brest of Breed in Davie, FL. Many thanks to Cassandra Carpenter for showing this beautiful boy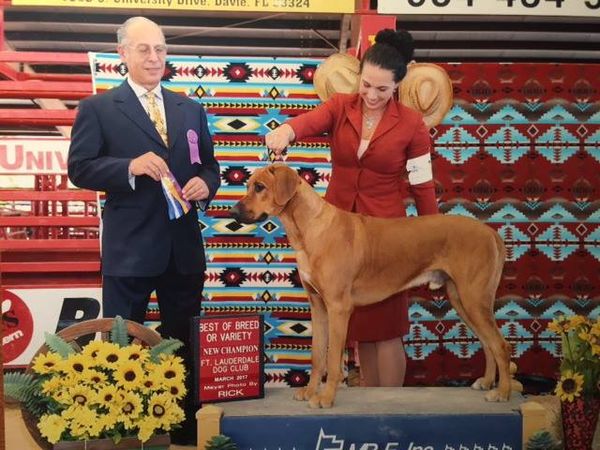 .
Mattie Ross won Best of Breed at the Suwannee Valley Kennel Club  On March 26th 2017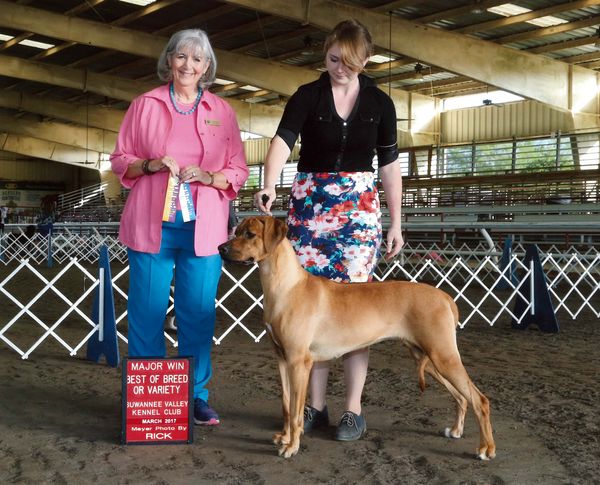 North Georgia Hound Association
Sweepstakes 4-15-2017
Best of Breed Sweepstakes: Springridge Red Dawn's Supermoon Rising-DELTA
Best of Opposite Sweepstakes: Springridge Hit the Ground Runnin-TURK
Judge: Mrs. Darcy A. Quinlan
Both Pups Win out of the 6-9 puppy Class!
Turk Won RWD 2 days out of the 4 day show!
Delta-Owned and Loved by: Rhonda Johnson
Turk- Co-Owned by Rhonda Johnson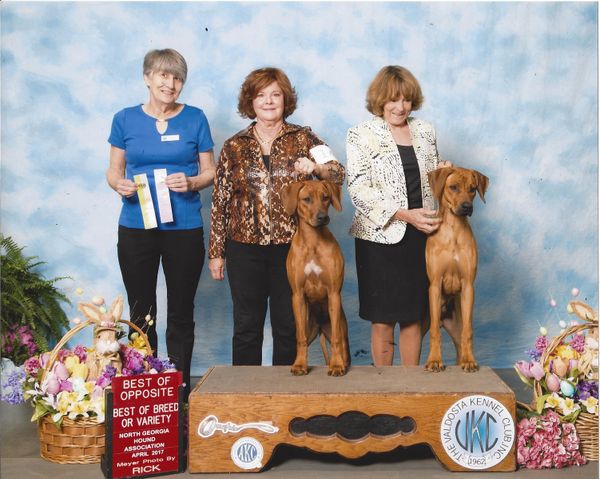 Finishing her Grand Championship in style, Rooney - GCH Bindura's Breaker of Chains - was Best of Opposite at the Perry Shows on the first day and earned her GCH title at the very young age of 10 months and became one of the youngest, if not the youngest, Ridgeback to earn this title.  Rooney was piloted by Cassandra Carpenter in Perry for her last GCH point!