NEWS YOU CAN USE
 
We are having our January meeting at the Brooksville show site, January 14, 2017, after Ridgebacks show most likely down by the exercise pens.  Florida Classic Park, 5360 Lockhart, Road, Brooksville, FL.  
At this meeting, we will be discussing the 2017 schedule of events.  There will be a sign up for the Lakeland Fast Cats for people to help the club at this event.  Please sign up to help on one of these days.  The events are February 17, 18 & 19, 2017.  
We will also be discussing the 2017 Regional.  It seems that there is a rumor that the AKC will do away with the Friday Specialties and ask that we designate the Saturday judging as our Specialty.  Again, this is just a rumor but it is something we need to talk about.  

Jane Hlis is going to be Judge Hospitality for the 2017 Regional. 
We will vote on new members, Deborah Rocco and Marti Stivatkis.
The Meet the Breed booth needs to be discussed and a decision made that day.  Paula Alshouse is stepping down.  This is  not an SSRRC event or responsibility, it is a RRCUS responsibility.  If no one wants to put the booth together for 2017, it will be turned back to RRCUS to find volunteers.  Please realize, that during the event, you will be expected to be available to run the booth Friday afternoon through Sunday afternoon, you will need to get volunteers and you will be responsible for submitting and asking for expenses from RRCUS.  
*************************** 
RING BRAGS

 
Bindura's Breaker of Chains   "Rooney" made her show start weekend with a bang.  Rooney was Best of Opposite in Puppy Sweeps on Friday, December 16, 2016, at the SRRC Regional Specialty, and then Winner's Bitch the next day at the AKC National Championship for a 5 point major.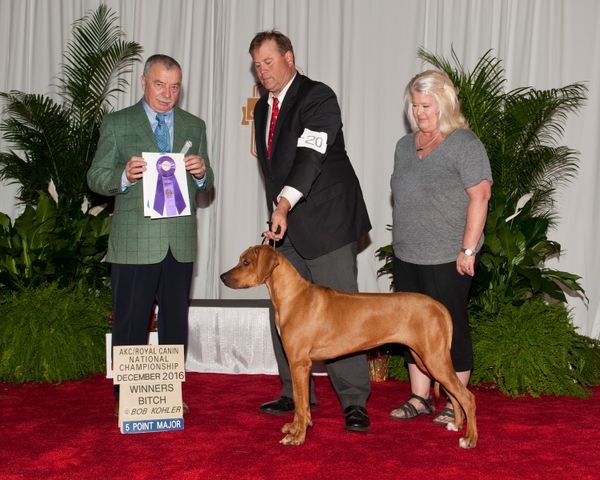 ROPASA'S SOOOSMOOTH  BCAT
WINNER OF AM BRED DOGS
RRCUS NATIONAL SPECIALTY 2016
Owned and Bred by Robyn Sasso
Handled by Julia Toole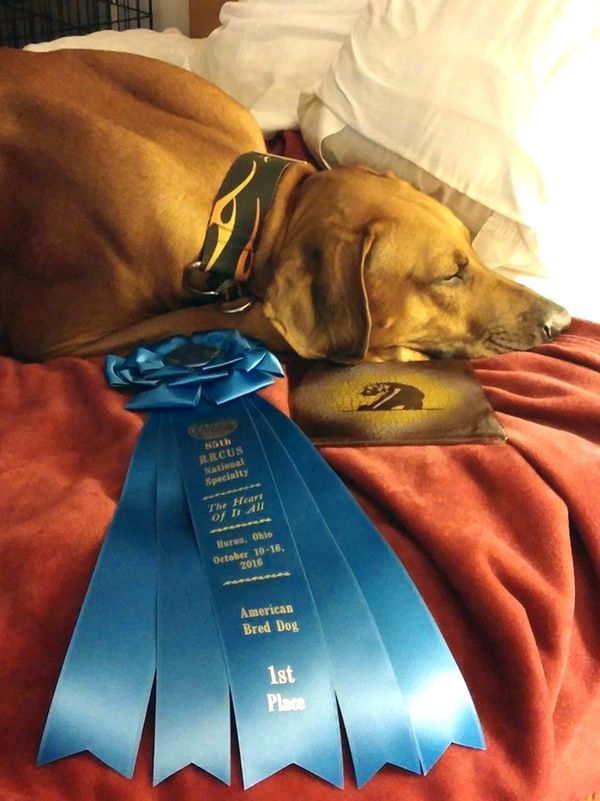 MBIF MBBIS UKC CH IN'T CH FC ZURI'S ROPASA ESCAPADE MC LCM2 CGC
5th PLACE, VETERANS DIVISION,
AKC LURE COURSING 
RRCUS NATIONAL SPECIALTY 2016
Owned, Bred and Handled by Robyn Sasso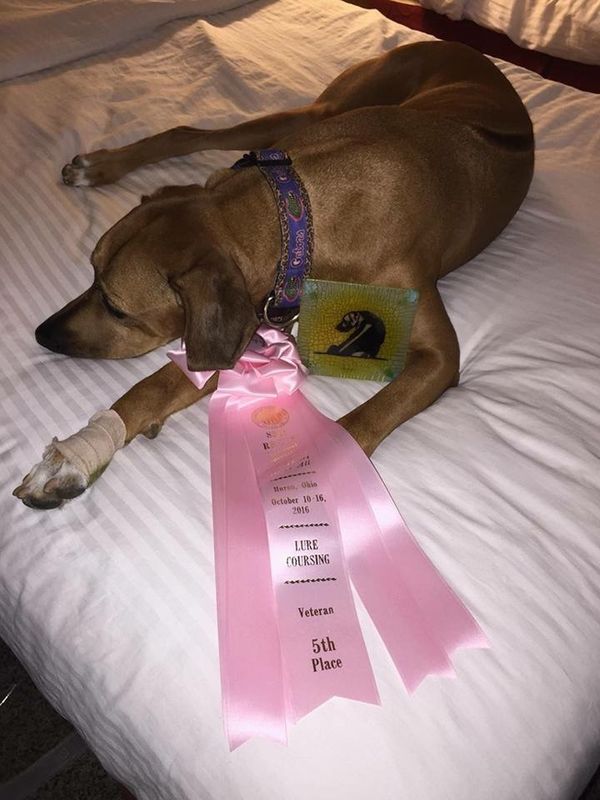 Amber Trace So Zoetic by Ropasa
Owned and loved by Julia Toole

Placed 4th in Amateur Owner Handler at the National in Ohio.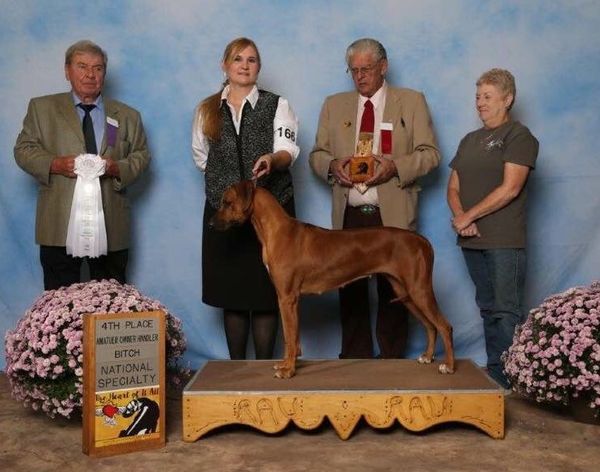 Nice day at the SSRRC Regional Specialty for Bindi, GCHB DC Regal Tolerton's Luminara Unduli for Bindura, M.C. and her daughter, Rooney, Bindura's Breaker of Chains.  Momma, Bindi, was Best of Opposite to the Best Veteran in Sweepstakes and Rooney was Best of Opposite to Best on Sweeps.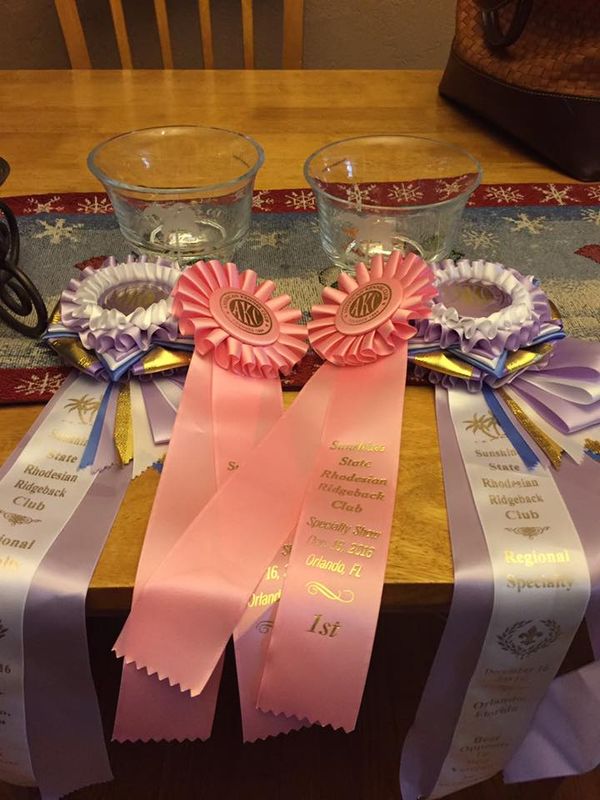 MBIF GCHS DC Aariel's Red Dawn Rising Over Springridge SC, HIC, TT, CGC, Fch- ZORA
Back to Back Best of Breeds in Tallahassee, December 10 & 11 at the ACC - ASFA Trials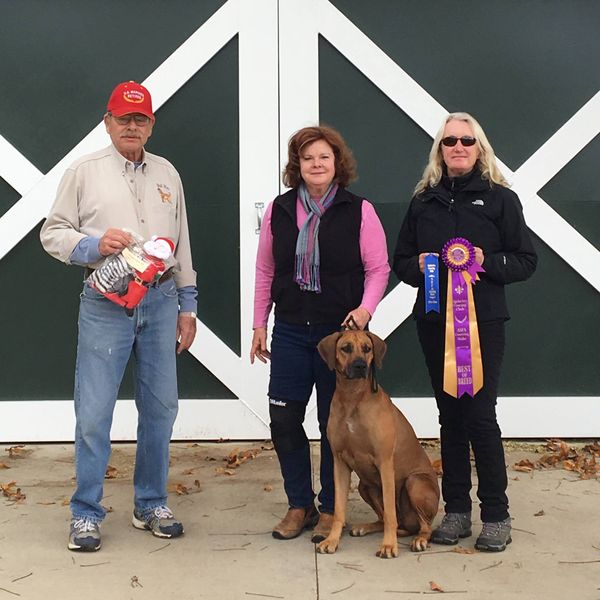 FC BinduraTolerton Meera Of Course was Best of Breed on October 23, 2016 at the SSRRC  AKC All Breed trial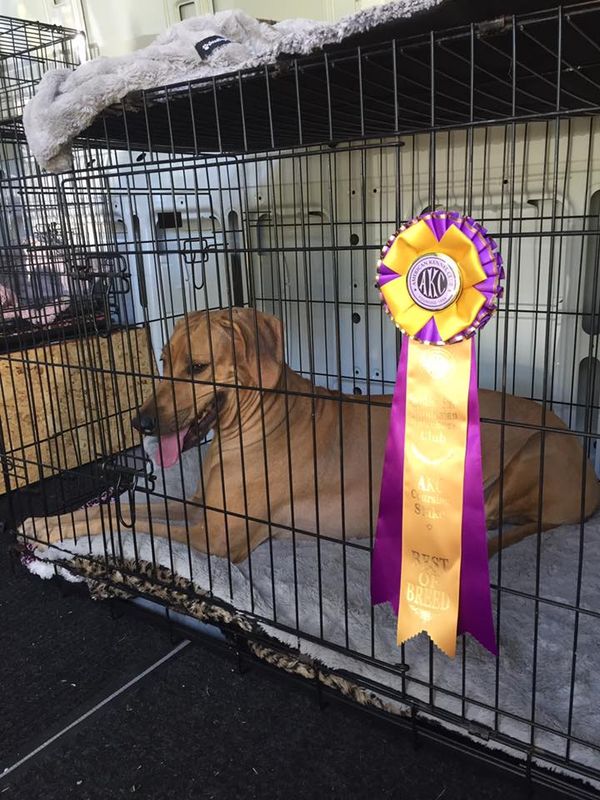 MEET THE BREED 2016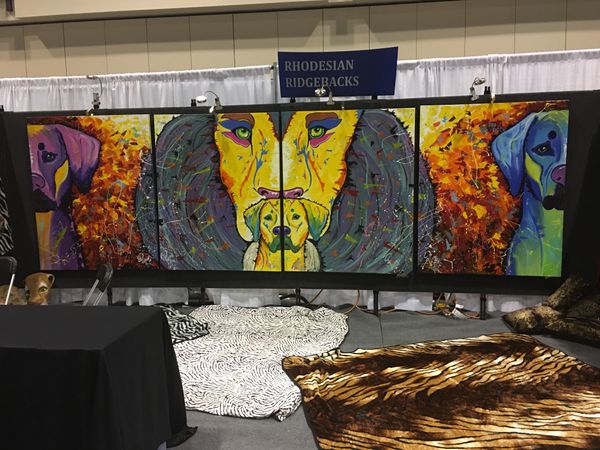 The Meet the Breed booths and displays are an integral part of all dog breeds.  During this time, breed education takes front and center and people are invited to the booth to meet the breed, talk to breeders and learn a little more about the breed.  Along with this, there is also a competition for the Best in Booth display.  This year, Paula Alshouse, DVM, Deborah Rocco and a few other SSRRC members represented RRCUS and put on a fabulous display with the artistic talent of Giuseppe (Pino) Renzulli.  Their hard work and dedication to the breed was rewarded with the much coveted Best in Booth rosette.  Enjoy the photos.  
2016 SSRRC Regional Specialty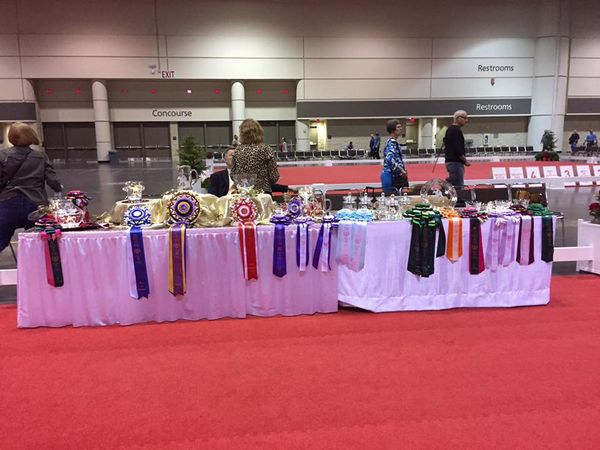 Once again, SSRRC held their Independent Specialty the Friday before the Royal Canin National Championship.  This year we had Dennis MacMullin judge our Sweepstakes, Megan Mello judge the Juniors and Stewart Danker judged the Breed classes.  Once again, SSRRC drew an entry of 88 dogs and offered majors in both dogs and bitches.  Jane Hlis was in charge of the trophies and the trophy table set up, Peppi Greco made our fabulous rosettes and all members had a great time.    Thank you everyone that drove down to join us.