Welcome Members and Visitors
This is the  Third Quarter Newsletter for the
Sunshine State Rhodesian Ridgeback Club.  

 
The Third Quarter sure has been Hot -- and I am not just talking about the weather!  Our club and members have been busy in the ring, on vacation and enjoying their dogs!  Please enjoy the news as our members share their latest wins and escapades in the Florida Sunshine!

WELCOME NEW MEMBERS

A big welcome to new members, Annie Johnson and Fred A. Johnson.
The Second SSRRC  "B" Match was held on June 16, 2012 after the show in Palmetto, FL.  What a great turnout we had. Special thanks to all members and non-members that came out to support the club!  And a HUGE thanks to member Carol Smith for being our judge.  

We know it was a tough decision, but in the end, Marlin walked away with the win.  

What a great week-end for Pepper!
At the Ft. Meyers Club shows on May 26 and May 27, 2012, Pepper - TuckerRidge Bold and Spicy of Regal, JC - was Winners Bitch and Best of Opposite BOTH days for her first points!  Way to go Pepper!  Pepper is owned and loved by Stacey and Nathan Tucker.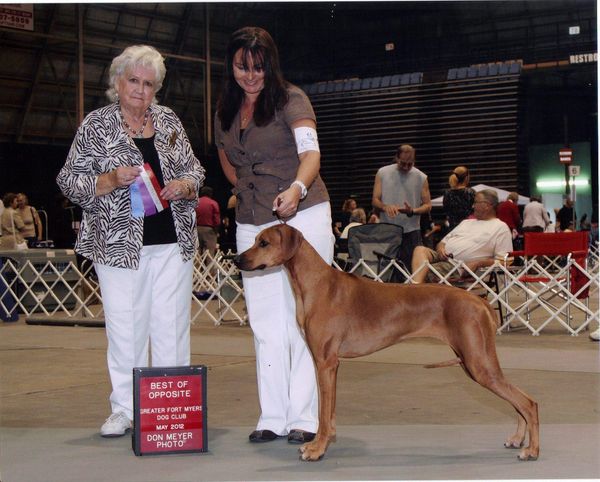 Back in the ring for Bindi
Bindi returned to the ring in  mid-July at the Jupiter-Tequesta shows after a 4 month hiatus.  On Saturday, July 14, 2012, Judge Douglas Johnson picked her out again for Best of Breed.  Judge Johnson gave Bindi her first 5 point major in June 2010 when he selected her for Best of Breed from the 12-18 class.  Bindi is GCH Regal Tolerton's Luminara Unduli for Bindura, FCH, SC.  Bindi is owned and loved by Denise Eberhard and Matthew Coughlin.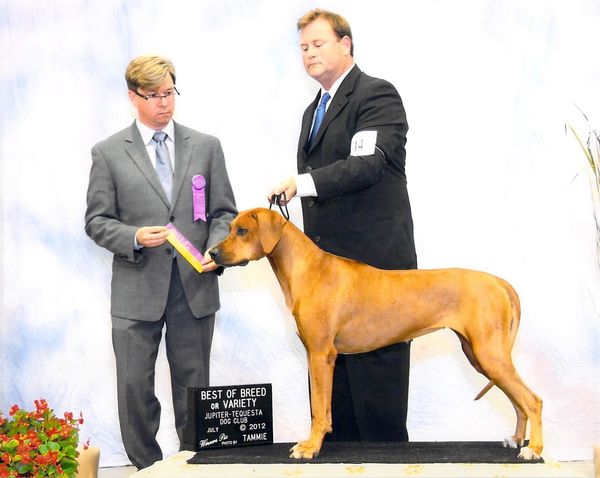 MAJORS, MAJORS, MAJORS!!!
Majors can certainly be hard to come by and  our members walked away with the majority of the majors this summer!  
Winning his first major (4 points) at the St. Petersburg Dog Fanciers show on June 16, 2012, is Cooper - Kengali's Unbridled Power.  Cooper is owned, loved and handled by Lisa McElroy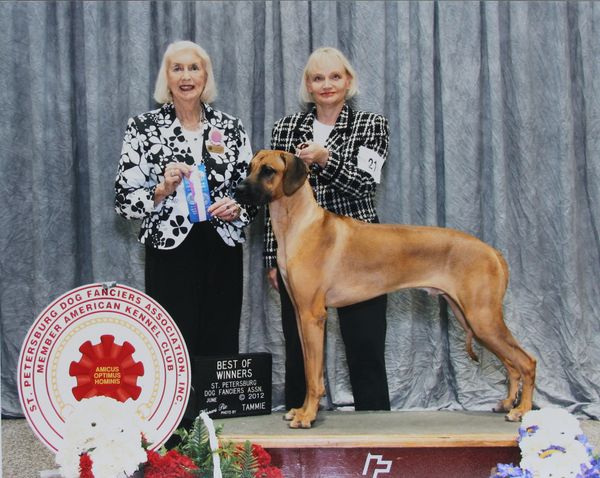 At the very same show, Raven took her first major, too.  Raven - Regal Tolerton's Can't Keep A Secret at Radiant Ridge - is owned, loved and handled by Casey Carpenter.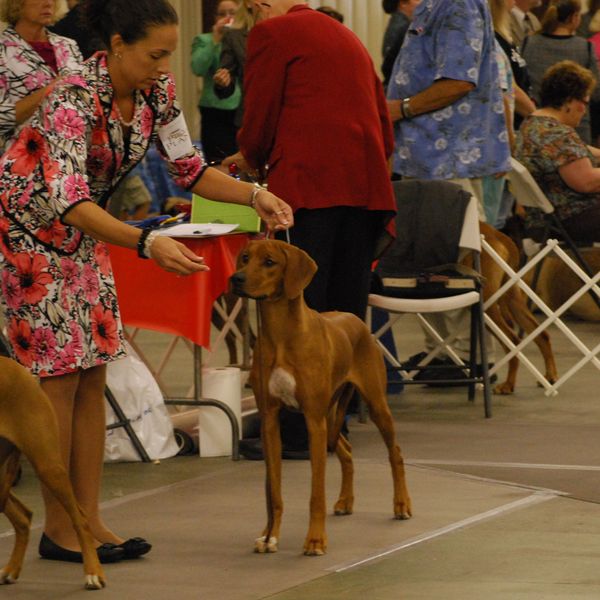 On Sunday at the St. Petersburg Kennel Club show, Pepper received her first major under Judge Elaine Matthews.  Way to go Pep!!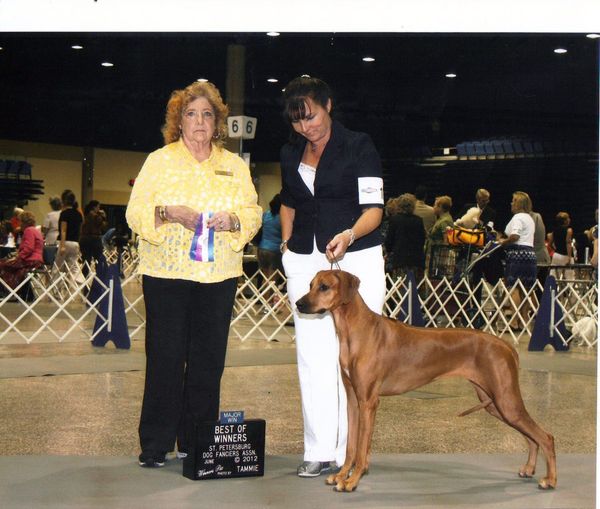 The Orlando Shows had 2 days of majors and once again, members and their show dogs walked away with them.
Pepper won her SECOND major at the Orlando show under Canadian Judge, Mr. Robert Witney.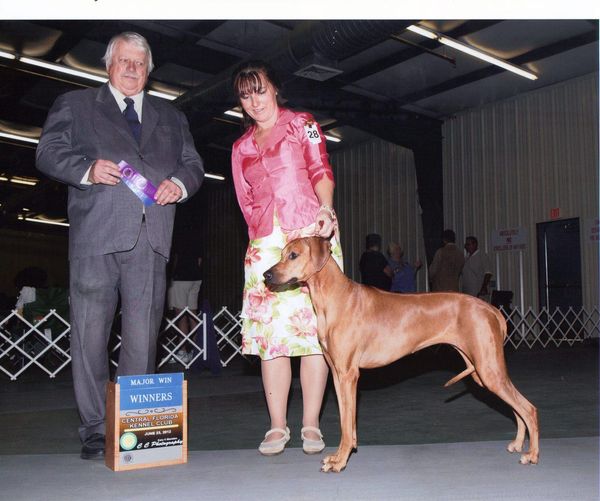 Kengali's Matahari Diamond Diva
- Diva - was Winner's Bitch and Best of Opposite on Sunday at the Orlando Shows for her first major win under Judge Sari Brewster-Tietjen.  Diva is Owner/Breeder handled by Ginny Merchant,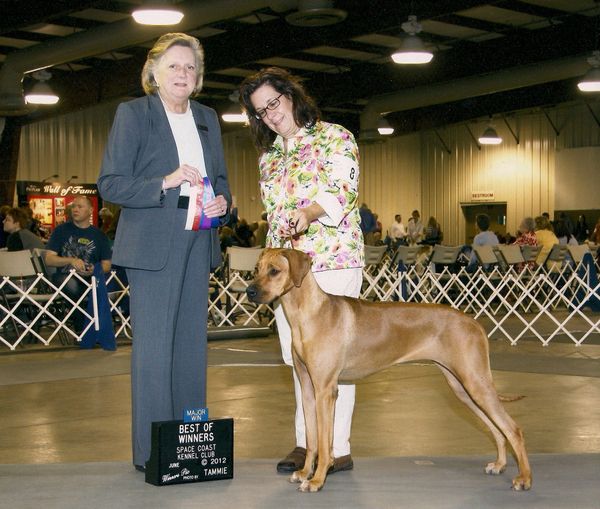 LET'S HEAR IT FOR THE OWNER HANDLERS!

If you happen to notice something special about a good majority of these wins, it would be that most of them are owner handled.  This year, SSRRC has 2 members that finished in the 2011 RRCUS Owner Handler Top Ten  competition - Matthew Coughlin (#3) and Ginny Merchant (#8).  Not an easy feat considering that they compete with some of the best professional handlers around.  
 Way to Go Owner Handlers!