FOURTH QUARTER NEWSLETTER for
SUNSHINE STATE RHODESIAN RIDGEBACK CLUB


Welcome members and guests.  Our year has wound down and what a year it was to be in Florida and be a member of the Sunshine State Rhodesian Ridgeback Club.

2012 saw many changes for our club.  We have taken great strides in becoming an AKC recognized club in order to run AKC lure coursing and AKC Regional shows.  Orlando was the center of the Ridgeback world for one week in November as the 81st RRCUS National Specialty came to our state.  And in December, the Eukanuba National Show returned to Orlando for its second year.  

Fun times in the Sunshine!

Our members have had fun this quarter on the Field, in the ring, putting on the fun runs and the fun matches.  We worked hard at the Specialty and enjoyed making new friends an catching up with old ones.  

Please enjoy the newsletter.  You all earned the accolades presented below.

President:                    Matthew Coughlin
Vice President:           Linda Gaunaurd
Treasurer:                    Lisa McElroy
Secretary:                    Ginny Merchant
Board of Directors:    
          Stacey Tucker
          Elaine Petersen
          Carol Smith


 Please help support your club in 2013.  As we make our way toward becoming AKC certified, it is going to take each and every one of you to help make this a possibility.  By volunteering to help with coursing events to taking on the show responsibilities, we need EVERYONE to help out.  Not only do we need help with the events, we need your entries as well.  

FIRST UP on the calendar:

SSRRC will be holding its first A match on January 5, 2013 after the BIS at the Greater Daytona Kennel Club's show.  
Show closes January 3, 2013 at Lisa McElroy's house at:

P.O. Box 1498
Sarasota, FL  34230

Entries can be mailed.  $7.00 per dog.  Ridgebacks only.  

THERE WILL BE NO DAY OF ENTRY

.

Premium list to follow.

SECOND UP on the calendar:

SSRRC will be holding its first ASFA event on February 9 & 10, 2013 in High Springs, Fl at SpringRidge Farms.  

Premium to follow.



 Our club had its second ASFA Fun Run on September 16, 2012 on Spring Ridge Field in High Springs.  A HUGE thank you to the Johnson's for allowing the club to use their field for this event.  

We had Ridgebacks, Whippets, Borzoi and a Pharoah Hound run and in the end, it was Whippet, Jay-Z that walked away (or maybe ran away) with the Best in Fun Trial rosette!

A big thank you for all that came out to support the club.  We will be putting in our paperwork to become ASFA certified and able to put on ASFA events. 

TALLY-HO

Earning her Field Champion title at the RRCUS 3 day event was FC Terra Christa's Khaleesi Dragon by Kengali.  Way to go Khaleesi.  Khaleesi is bred by, owned and loved by member Ginny Merchant.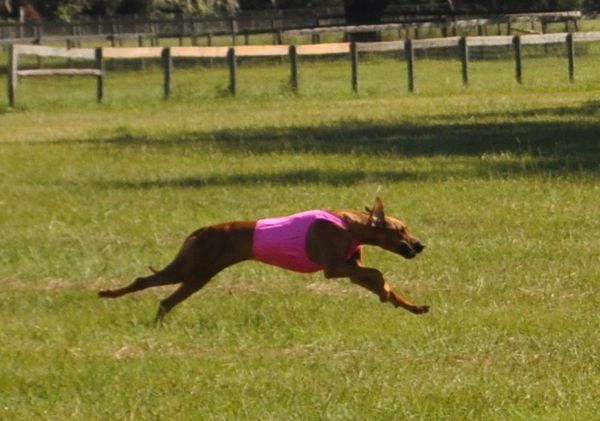 SSRRC and RRCUS joined together for a week end in October to bring 3 days of Lure coursing tests and trials as well as CAT trials.  On the field in High Springs, SSRRC took one step closer to becoming AKC cerified to hold AKC Coursing events.  

On Friday, Riffe was the Best in Field winner.  Saturday and Sunday, Best in Field went to Andrew (Whippet).